Past, Present & Future
The Present

November 2004
After a thorough Health & Safety audit by Time Consultancy Ltd, (who are independent experienced access consultants), we became an approved member of their SIAC Contractor Scheme. (Safety in Access Contractor).




Click for larger view

August 2005
The middle of 2005 saw one of our Directors proudly achieve a qualification in the NEBOSH examination.

March 2006
At the Windex Exhibition in London, our Director was awarded the 'Individual Overall Safety Improvement Award' by Time Consultancy Ltd.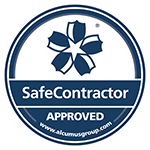 November 2007
After undergoing a strict vetting procedure we have achieved accreditation to the SAFEcontractor Scheme. SAFEContractor is operated by international safety, health and environmental risk management specialists, the National Britannia Group.



Click for larger view




Click for larger view

July 2009
To continue our ongoing commitment to our Companies Health and Safety Training, we achieved a qualification in the Industry recognised City and Guilds NVQ Level 2 in Cleaning and Support Services.